Birding Ohio's Clifton Gorge
12/11/2014 21:40
Last Sunday I travelled north to historic Clifton, Ohio, to hike and bird the trails in Clifton Groge State Nature Preserve. For those of you who aren't familiar with the area, not only does the preserve have numerous trails, but it is also right beside John Bryan State Park which has many trails of it's own. Not only does the Little Miami scenic river flow right through the heart of the preserve, but also the unique geological features, mainly the steep rock walls lining the trails and river bank, make it a neat place to hike even if you don't plan on bird watching. In wet weather conditions, there are some small waterfalls, also.
The Little Miami River flowing through Clifton Gorge State Nature Preserve
I didn't expect to see that many birds on the trip, but I turned out to be pleasantly surprised. The weather was cool and breezy, not exactly ideal for hiking or birding. But it was a good trip. I hiked for over an hour, but I noticed that all of the birds seemed to be gathered in one area, a wooded section flanked by a large open grassy picnic area. In the area I saw American Goldfinches, White-Throated Sparrows, White-Crowned Sparrows, Carolina Chickadee's, Tufted Titmice, Red-Bellied and Downy Woodpeckers, White-Breasted Nuthatches, and more. But the prize species of the trip (also in the aforementioned area) I actually did not see. But it is almost just as rewarding to hear the unusual call of a Barred Owl.
Despite not seeing any new or fairly uncommon species, it was a good trip just for the hike and the Barred Owl call. If you have never been to the area, you should definately plan a trip for the future. You won't regret it.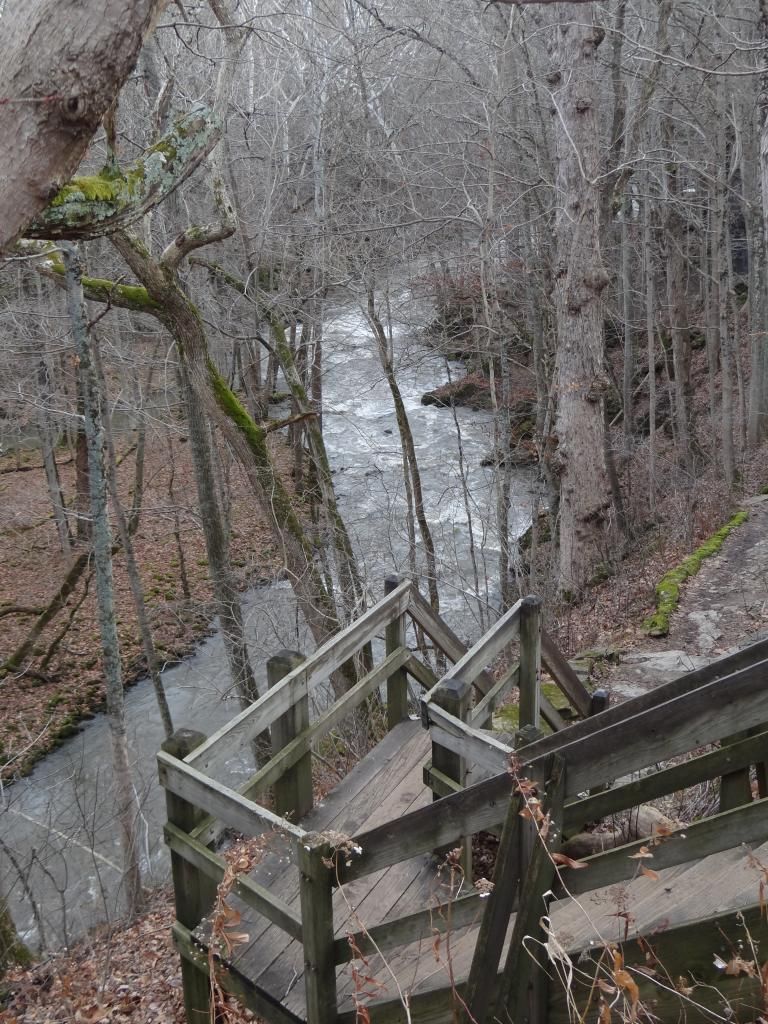 Steps leading down to a trail by the river